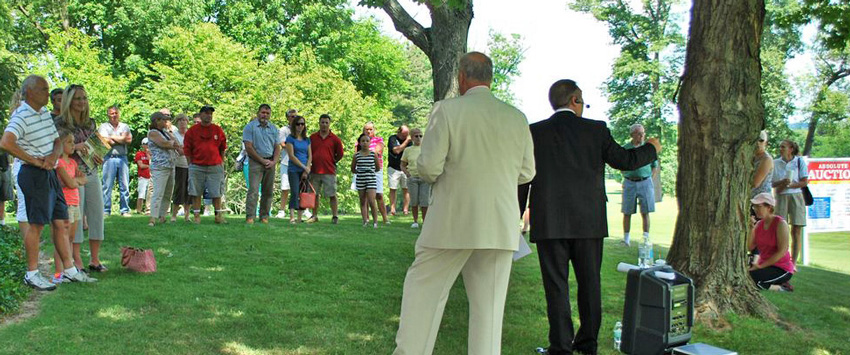 What is a Real Estate Auction?
A real estate auction is an innovative and effective method of selling real estate. It is an intense, accelerated real estate marketing process that involves the public sale of any property—most certainly including those that are non-distressed—through open cry, competitive bidding.
How will auction benefit me?
The real estate auction is a win-win proposition for everyone involved.

TERMS:
In a private treaty transaction, the buyer holds all the cards with regards to terms of sale. The buyer establishes the price, possession, deposit amount and desired contingencies.  In an auction conducted by Ohio Real Estate Auctions it is you, our client, who establishes the terms of sale. Generally, our auctions are conducted subject to terms such as: As-Is, Required Deposit Amount in Liquid Funds; No Contingencies. We want your auction to benefit you, the seller, to the maximum potential.
COSTS:
Commission – Our standard practice is aligned with the national trend of utilizing a Buyer's Premium in lieu of a Seller's Commission.  A 10% Buyer's Premium will be added to the final bid to create the final contract sale price paid by the buyer. All commissions, including those paid to any Broker representing successful bidder, and in this case, a referring agent, are paid from the proceeds of this premium thereby reducing the costs to the seller.
Marketing – Our advertising efforts are concentrated and focused.  Higher-profile, detailed marketing materials create more interest and enthusiasm amongst the buying community toward a property scheduled for auction. Details of our proposed Marketing Plan is included with related expenditures.
Closing Costs – None. All costs associated with closing i.e., title exam, deed preparation, conveyance fees etc., are buyer expenses as per our standard Purchase Agreement.  Seller would only be liable for pro-rated taxes.


BENEFITS TO THE SELLER:
Buyers come prepared to buy
Quick disposal reduces long-term carrying costs, including taxes & maintenance
Assurance that property will be sold at true market value
Exposes the property to a large number of pre-qualified prospects
Accelerates the sale
Creates competition among buyers—auction price can exceed the price of a negotiated sale
Transaction not Contingent on Buyer Obtaining Financing
The seller knows exactly when the property will sell
Eliminates numerous and unscheduled showings
Takes the seller out of the negotiation process
Ensures an aggressive marketing program that increases interest and visibility
BENEFITS TO THE BUYER:
Smart investments are made as properties are usually purchased at fair market value through competitive bidding
The buyer knows the seller is committed to sell
In multi-property auctions the buyer sees many offerings in the same place at the same time
Buyers determine the purchase price
Auctions eliminate long negotiation periods
Auctions reduce time to purchase property
Purchasing and closing dates are known
Buyers know they are competing fairly and on the same terms as all other buyers
Buyers receive comprehensive information on property via due diligence packet